West Palm Beach White Collar Crimes Attorney
Serving Palm Beach County, Broward County, Martin County, and More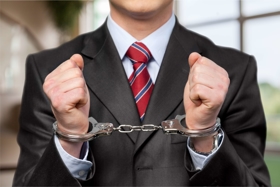 The category of "white collar crimes" encompasses a wide range of criminal offenses which involve the use of deceit or theft for personal gain. Despite their nonviolent nature, white collar crime charges can still expose defendants to severe criminal consequences upon conviction, including incarceration, civil forfeiture, and exorbitant fines. For this reason, if you have been accused of any type of white collar crime, it is imperative you retain the services of a powerful advocate as soon as possible to protect your professional reputation and future.
At the Law Offices of Greg Rosenfeld, P.A., our West Palm Beach white collar crimes lawyer has the vast legal knowledge and passion necessary to guard your rights and minimize your chances of conviction. With custom-tailored legal strategies and an unshakable dedication to preserving your well-being, our firm has what it takes to level the playing field and help you get through this frightening time.
Why trust our firm? Consider the following:
Rated 10 Best for Client Satisfaction by the American Institute of Criminal Law Attorneys
Included in Super Lawyers® Rising Stars℠ 2019 for unparalleled skill and results
AV® Preeminent™ Rated by Martindale-Hubbell® for ethical standing
Proven history of case victories
Your future may be in jeopardy – contact our West Palm Beach white collar crimes lawyertoday to make sure it is protected.
Skillfully Defending Against All Types of White Collar Crime Charges
Usually committed by individuals occupying positions of power, white collar crimes are often financially motivated and can involve a variety of unethical acts, including abusing access to classified information, misappropriating funds, collusion, or participating in some type of large-scale scam. Since many white collar crimes can be prosecuted on both state and federal levels, these types of offenses require the tenacity and skill of a trial-tested attorney in order to be successfully defended against.
Our firm is equipped to handle cases involving all varieties of white collar crimes, including:
Credit card fraud
Embezzlement
Insider trading
Counterfeiting
Identity theft
Cyber crimes
Money laundering
Pyramid schemes
Tax evasion
Upon a detailed examination of the circumstances surrounding your charges, our firm can seek to exploit weaknesses in the prosecution's claims and provide the powerhouse advocacy you need. From negotiating with the prosecution for a reduced charge to zealously litigating on your behalf at trial, we have what it takes to get results.
Speak with our White Collar Crimes Lawyer Today
At the Law Offices of Greg Rosenfeld, P.A., our West Palm Beach criminal defense lawyers understand that sometimes good people can find themselves in difficult situations. If you are facing an investigation for a white collar crime or have already been arrested, we can help keep your situation under control and ensure your constitutional rights are asserted every step of the way. In some cases, we may even be able to cease the investigation without charges being filed. No matter how serious or complex your situation may appear to be, we are ready to stand by your side.
The sooner you contact us, the sooner we can help. Fill out an online form today to schedule your confidential case review and get started towards building your defense.